With affordability on many Ontarians' minds this election, TVO.org looks at the credits and debits of basic income — and at where the major parties stand

By: Justin Chandler
When she signed up for Ontario's Basic Income Pilot Program in 2017, Hamiltonian Jessie Golem was working four jobs to make ends meet. She wanted to start a full-time photography business but couldn't find the time.
"It was really hard to focus. I was constantly stressed," Golem says.
When Ontario's then-Liberal government launched a pilotto provide 4,000 low-income earners in Hamilton, Lindsay, and Thunder Bay with up to $17,000 annually, she applied and got in.
Golem remembers the moment it hit her that she wouldn't have to worry about covering rent. "I started sobbing because I was just so happy and relieved and surprised," she says. She started a photography business and made a financial plan, projecting that, by the time the pilot ended, she'd be earning more than the $34,000 ceiling and off basic income. Then, in 2018, Doug Ford's Progressive Conservative government cancelled the pilot. Golem was "absolutely furious." 
Research released in May found that Hamilton is the third-most-expensive city in North America. During the pandemic, rent and housing prices shot up; residential properties were 22 per cent more expensive this July than last. Local advocates say that introducing a basic-income program there, and elsewhere, is critical — and that voters should make sure it becomes an election issue. 
What is a basic-income program?
According to Basic Income Canada Network, the concept involves the government giving individuals an unconditional cash transfer, with the goal of ensuring all residents can meet their basic needs regardless of their employment status.
There are two different models: universal and guaranteed. In the former, money goes to all residents, and those with higher incomes pay some of it back through taxes. In the latter, the one used in the Ontario pilot, low-income earners are given money and, if their income grows, payments are reduced.
In the pilot, participants earning less than $34,000 received just under $17,000 per year (the amount decreased by 50 cents for every dollar an individual earned through work), and couples received just more than $24,000. People with disabilities received an additional $6,000.
What are the possible benefits?
"[Unaffordability] is becoming a huge issue and will likely only get worse," says Keanin Loomis, head of the Hamilton Chamber of Commerce. Although he used to view BI as "one of those pie-in-the-sky progressive policy initiatives," he notes, the pilot drew his interest. "From a business perspective, we're all about streamlining government," he says.
While the Ontario pilot was cancelled before it was complete, a McMaster University team was able to draw some conclusions: its March 2020 findings indicated that everyone who'd received BI stated that they'd benefitted in some way and that many recipients reported better health, labour-market participation, food and housing security, and social relationships. Recipients reported less frequent visits to hospital emergency rooms and health-care practitioners. Most reported having worked while in the pilot.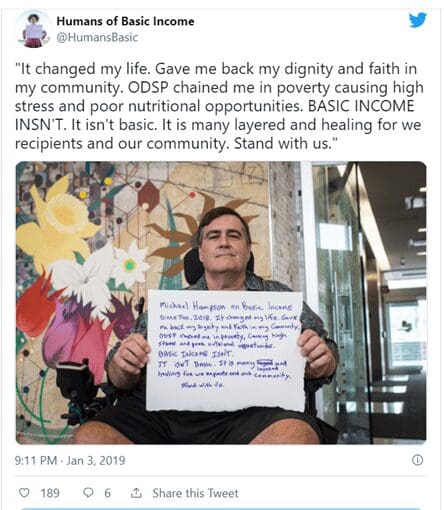 Golem says BI isn't a handout but an investment that can give people new opportunities and improve their well-being. After the pilot was cancelled, she created a series of photographic portraits — Humans of Basic Income — of more than 70 of the other participants holding signs explaining what the pilot meant to them. For some, it meant buying medicine or fresh food; for others, it meant moving somewhere safer. 
"I don't like the word 'handout,'" she says. "I like the word 'investment,' because I feel like it is an investment or an opportunity."
Elaine Power, a professor at Queen's University and co-author of The Case for Basic Income: Freedom, Security, Justice, says that another benefit of BI is its ease of access as compared to welfare programs, which she calls "dysfunctional" and "filled with 19th-century moral judgments about people who live in poverty." Many people she's spoken with, including some who were on the pilot, referred to social assistance as bureaucratic and stigmatizing, she says.
What are the possible drawbacks?
In The Case for Basic Income, Power and her co-author, Jamie Swift, write: "If ever a proposal was subject to the old saw 'the devil is in the details,' Basic Income would be it, particularly in Canada with its overlapping — and often confounding — federal-provincial jurisdictional issues."
Economist Armine Yalnizyan, the Atkinson Fellow on the Future of Workers, says that, when it comes to discussing BI in either its universal or guaranteed form, there are too many possible interpretations. "Not everybody is talking about [workers]. Not everybody is talking about emergency help. Not everybody is talking about anti-poverty. Not everybody is talking about technological change." She says that any BI policy needs to be assessed to see what it's replacing or cutting out.
Mike Moffatt, an assistant professor at Western University's Ivey Business School, has written that a guaranteed basic income, as costed by the Parliamentary Budget Office in 2020, would eliminate supports, such as those for Canadians with disabilities, leaving them worse off.
"There's a transfer of wealth from persons with disabilities that have high needs to other parts of society, and that's really problematic," he tells TVO.org.
Yalnizyan says she agrees with advocates who contend that the cost of living is too high, that welfare rates are too low, and that it's too difficult to access social supports: "I'm not a neo-con saying, 'Give people money, and they won't work.'"
But, like Moffatt, she worries about what supports might be replaced in order to implement basic income. "I believe more money is a solution. But a universal basic income is not a solution," she says, adding: "There isn't a magic bullet." Instead, Yalnizyan suggests that policy-makers focus on reforms such as those identified in the British Columbia Expert Panel on Basic Income, which ultimately concluded that BI is inferior to a suite of reforms to social assistance, taxation, and labour laws. She says, for example, that any plan that involves giving low-income renters money without addressing the rapid rise in rent won't help reduce poverty: "That money's going to go in one pocket and come out the other."
When asked whether social supports and basic income can co-exist, Moffatt says it's hard to say without seeing a specific plan; he notes, though, that simplifying the system is a core tenet of many BI proposals. "But the system is complex because people have complex needs. Let's not reinvent the wheel. We've done so much work on this — let's implement the recommendations and the studies that are already out there," he says, citing such examples as increasing tax credits and helping to ensure that everyone is filing taxes and getting the support they're entitled to.
What are advocates calling for?
Basic Income Now, a coalition of groups that support BI, is calling on electoral candidates to support its implementation — and on voters to push for action. Basic Income Hamilton, a volunteer working group of the Hamilton Roundtable for Poverty Reduction and the Social Planning and Research Council of Hamilton, is involved in the campaign. BIH co-chair Lisa Alfano says this is the first time such groups have joined under one banner: "Our mandate at Basic Income Hamilton is to inform, educate, and engage our local community in the basic-income concept."
To do that, BIH is conducting a social-media campaign and working on a lawn-sign campaign. It's also planning private meetings with local candidates to discuss the issue. Beyond the election, the group is working with the Basic Income Youth Network to put together a webinar for young people. This summer, the youth network ran a series called #BasicIncomeBoughtMe, which highlighted how Ontario pilot participants spent their payments.
"I think Canadians have had enough with the previous attempts to solve issues like poverty," Alfano says. 
Basic income on the campaign trial
To date, basic income hasn't been a major issue on the campaign trail. The federal Green party has long supported BI, and the NDP platform indicates that elected members will "get to work right away building towards a guaranteed livable income for all Canadians." The federal Conservatives make no mention of BI in their platform.
Although at the April convention, Liberal delegates voted 491-85 in favour of a resolution calling on the federal government to introduce universal basic income, it hasn't yet featured in any of the party's election plans. (The 2021 federal budget did not include the policy, and, as Global News reports, Liberal leader Justin Trudeau has been less than enthusiastic, saying it's not a priority.)
"There's quite a lot of support [for basic income], but not from Trudeau and not [Finance Minister Chrystia] Freeland, and it's not an election issue," Power says. "Certainly, that's something we would like to see, and maybe it will become one. But I think it's really very threatening, potentially, for the quote-unquote established order and for corporate interests."