The Scottish Government has shown an "openness and interest" in bringing forward a basic income pilot for people leaving care, The National can reveal.
The news comes after the Welsh Government announced plans to help care leavers at age 18 by providing them with an income of £1600 per month for two years.
Cardiff officials said the three-year pilot offered the highest amount for a basic income scheme anywhere in the world. However, the UK Government is not party to the scheme and so the income will be taxed, and will affect people's eligibility for benefits.
The Scottish Throughcare and Aftercare Forum (Staf) said in the wake of the Welsh move that it is "more important than ever that big, brave decisions are made" and called on the SNP government to look to its previous pledges.
The party previously said it would seek to introduce a Universal Basic Income (UBI) scheme in an independent Scotland, and in its 2021 manifesto promised to start work on a Minimum Income Guarantee (MIG) during this parliamentary term.
UBI would see everyone, regardless of wealth, paid a set income. MIG would see the poorest in society given funds to "top up" their income to match the agreed minimum level.
While the Welsh scheme doesn't strictly fit either of these criteria, ministers said it would be a small pilot of how a basic income could help care leavers be better placed for their transition into independence.
Staf, RSA Scotland, and children's charity Aberlour have been working with care leavers to put forward such a pilot scheme, with Aberlour chief executive SallyAnn Kelly saying it could "offer valuable insight and evidence for the introduction of a national guaranteed or basic income scheme".
Jamie Cooke​, the head of RSA Scotland, said they had been working with the Scottish and Welsh governments on the idea and it was understood that when "both carry something out, you can enhance the other".
"The pandemic has really shifted the debate in Scotland," he said, adding that the Edinburgh government had shown an "openness and interest in exploring this with care leavers".
Cooke said that where the idea had been tried internationally people had increased wellbeing and increased trust in society, as well as immediate quality of life improvements such as better accommodation and the freedom and funds to pursue further education.
"Probably where we are is less about hard data and more about real people and real lives," Cooke said.
Aberlour boss Kelly (above) said: "Care leavers are one of the groups most at risk of experiencing financial insecurity. They are vulnerable to the worst effects of poverty and more likely to be unemployed or to become homeless. Those who choose to move on from their care placements into independent living should be able to depend on a certain level of financial security.
"'The Promise' is clear about how Scotland must continue to support care leavers once they have moved on from care."
The reference is to a commitment made by First Minister Nicola Sturgeon, and backed by all the main parties, to ensure everyone in Scotland grows up "loved, safe, and respected so that we realise our full potential".
Kelly added: "We continue to call on the Scottish Government to follow the Welsh Government's lead and #KeepthePromise by introducing a pilot guaranteed income scheme for care leavers in Scotland."
According to the charity Who Cares? Scotland, 1807 people left care in Scotland in 2019-20, compared to 2365 in 2018-19.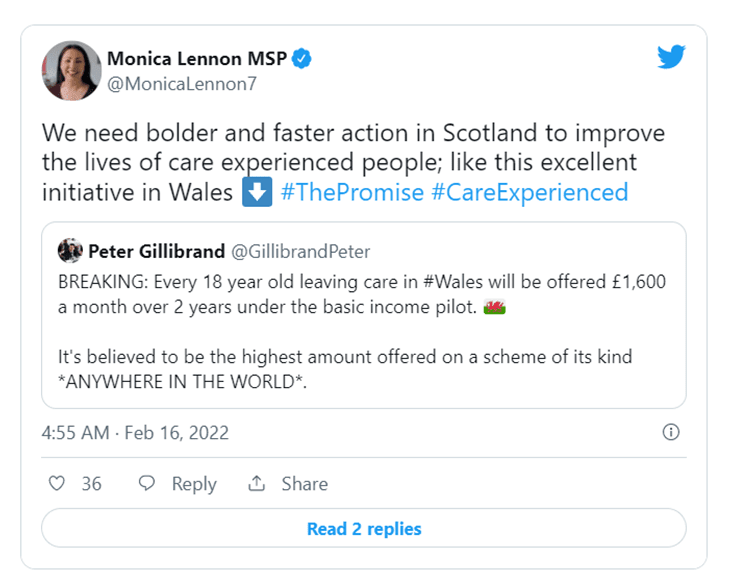 Labour MSP Monica Lennon also reference the pledge, writing on Twitter: "We need bolder and faster action in Scotland to improve the lives of care experienced people, like this excellent initiative in Wales #ThePromise."
She pointed to an offer from the Labour-led North Ayrshire Council to pilot the scheme, adding: "This is exactly the sort of bold and progressive action that we need in Scotland to transform the lives of care leavers.
"Care experienced young people need transformative policies, not broken promises. The Labour government in Wales should be commended for this initiative and SNP and Green ministers should follow suit in Scotland."
The Scottish Greens and Scottish LibDems have both previously expressed support for a MIG scheme.
Plaid Cymru, who signed a co-operation agreement with the ruling Welsh Labour party late in 2021, said that there was scope for their scheme to go still further.
The party's spokesperson for the economy, Luke Fletcher MS, said: "Poverty is as multidimensional as it is widespread, and there's no reason that this pilot cannot be expanded to a wider population from the start."
The party said Cardiff should ask for additional powers over welfare and tax "to tackle rising poverty in our communities and to start planning a future Welsh Tax and Benefits system, with Universal Basic Income at its core."
The Scottish Government suggested that it was more focused on its MIG.
A spokesperson told The National: "The Scottish Government welcomes the Welsh Universal Base Income (UBI) pilot. The Scottish Government funded a feasibility study into a UBI pilot which resulted in a report with some of the most detailed and comprehensive research in the UK.
"Scottish Government and Welsh officials are in regular contact and Welsh officials are equally interested in what we are doing around the Minimum Income Guarantee and the Promise.
"The Scottish Government is developing a Minimum Income Guarantee which has potential to deliver transformational change, reduce poverty and inequality. It ensures everyone, including care leavers and young people with experience of care, has enough money to live a decent, dignified, healthy and financially secure life."