By: Jason Ruiz
Five hundred households in one of the city's poorest neighborhoods will be part of Long Beach's guaranteed income pilot program that will give them $500 per month for a year.
Mayor Robert Garcia announced the program Wednesday afternoon by stating that the city would target single-parent households in the 90813 ZIP code, one of the city's poorest and hardest hit by the COVID-19 pandemic. The 90813 ZIP code includes parts of Central and West Long Beach.
The city expects to start accepting applications later this summer with payments starting in Fall 2021.
The program is being made possible in part by $30 million allocated by state legislators this month and also through seed money that was donated by Twitter CEO Jack Dorsey last year to help select cities create pilot programs.
Another $2 million in federal funds issued to the city as part of the American Rescue Act is expected to be used for the program, according to a city memo released Wednesday.
"Our guaranteed income program will help single parents and families with direct assistance and basic needs in a community that has long struggled with poverty," Garcia said in a statement. "The research collected from this pilot will help us build a national case for these programs across the country and our city."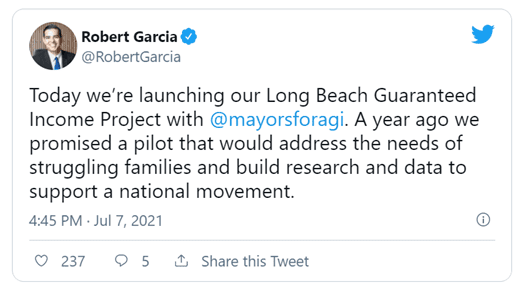 Garcia is part of a coalition of 15 mayors who announced last July that they would be pursuing basic income programs in their cities, which include Oakland, Los Angeles, Newark and Columbia, South Carolina.
In addition to $500 per month, the households will also receive free child care, transportation support, workforce training and support for digital inclusion like cell phones and internet connection, according to Garcia's announcement.
The Office of Economic Research at Cal State Long Beach is expected to issue a report at the end of the pilot program.