By Sean McElwee & Dawn Milam
Amid an economic crisis and devastating unemployment that has families across the country struggling to afford basic needs, a new national poll by Data for Progress and The Lab, a policy vertical of The Appeal, shows that a majority of American voters support supplementing the existing social safety net with targeted, direct cash payments at the local level:
59% of likely voters, including 78% of Democrats, 54% of independents, and 40% of Republicans support piloting local guaranteed income programs that provide direct cash payments of $500 to $1,000 per month to people in need.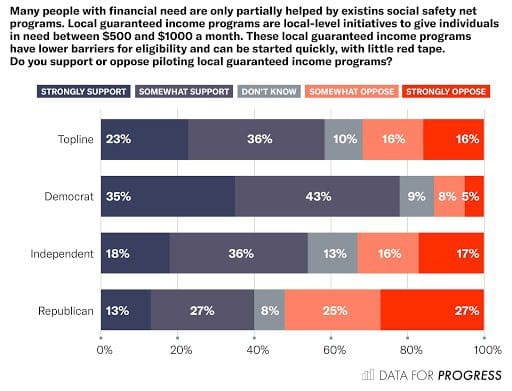 Key Takeaways:
With millions unable to afford necessities like rent, groceries, childcare, and health care, and with a porous, inefficient social safety net that provides only partial help, direct cash payments can help households cover their essential needs or, in better times, build small savings. A number of cities across the country, from Stockton to Atlanta, are piloting local initiatives, known as guaranteed income programs, to provide individuals with cash payments of $500 to $1000 a month. 
These locally-administered programs have more flexibility, allowing funds to be distributed quickly as well as targeted to need.
And while the initiatives are not "universal" in that not all individuals receive payments, they are unconditional: Unlike most government benefits, guaranteed income programs do not have work requirements or restrictions on how the cash may be used.
These direct cash payments are a supplement to other assistance programs, and can be an important tool for addressing the racial wealth gap. 
This national poll shows that more cities should consider launching similar programs given the broad bipartisan support for these initiatives.
Polling Methodology 
From January 15 to January 19, 2021, Data for Progress conducted a survey of 1164 likely voters nationally using web panel respondents. The sample was weighted to be representative of likely voters by age, gender, education, race, and voting history. The survey was conducted in English. The margin of error is ±2.9 percentage points.
_____
To see original article please visit: https://theappeal.org/the-lab/polling-memos/voters-support-local-pilot-programs-to-give-people-direct-cash-payments/